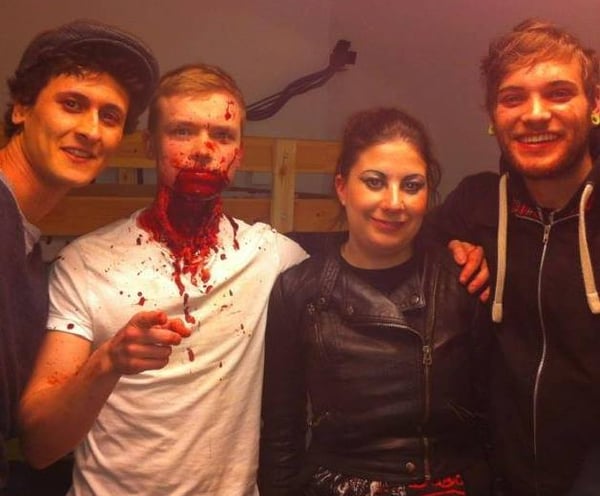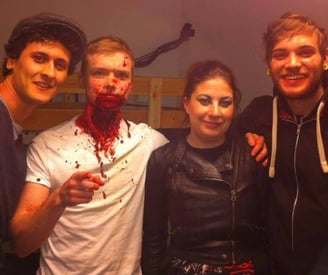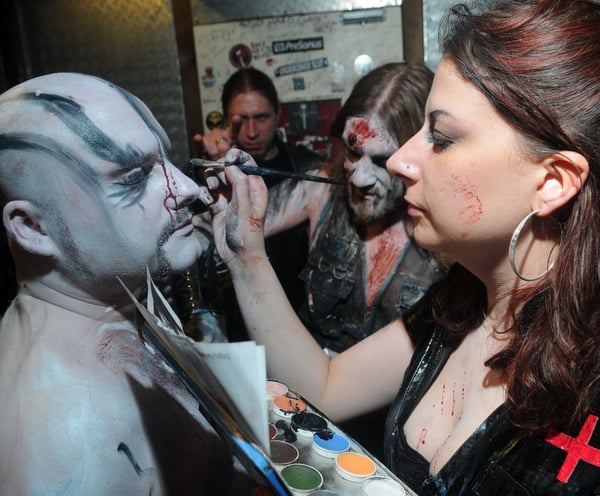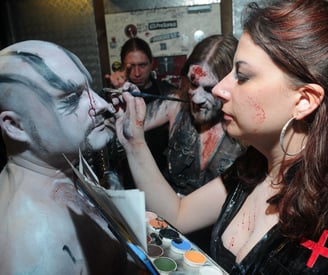 About Arabella Mayer
Music Videos
Arabella has designed & made bespoke make-up, prosthetics, props, special effects & done life casting for niche metal music videos & worked as a promoter within the music industry for Nuclear Blast Records & Sound Publicity, among a few other names. After a series of repeat clients, Arabella gained a project for a major metal record label Century Media Records for the Belgian Death Metal band Aborted, which Wikipedia describes as, "grown into the role of key contributors to the "brutal death metal" genre". Arabella designed & made prosthetics for Marci Phonix, one of the early pioneers of grime. Arabella did make-up for BBC 2, the Naked Choir with Gareth Malone. Arabella did make-up for electronic band Angelspit, & Belgian D J Davoodi, for Crunk'D Records. Arabella did special effects make-up & face & body painting for various music festivals & live gigs, including Terrorizer: Road to Perdition at Electrowerkz, London & Reading Festival & was interviewed by Metal Hammer music magazine.
Career Highlights
Career highlights include working as a prosthetics department trainee on "Edge of Tomorrow", featuring Tom Cruise & Emily Blunt, featured in cinemas worldwide & doing special effects make-up for a film screened at Curzon cinema in Colchester. Doing make-up for a BAFTA nominated BBC children's television factual historical production & zombie make-ups for Sony Pictures Television & the V & A Museum. Designing a period hairstyle for a theatre production for Sophie Austin & tutoring how to style her hair, before she became a celebrity Hollyoaks soap actor. Designing prosthetics & props for Century Media Records. Celebrities & personalities have included Sophie Austin, Guy Combes, Marci Phonix, Dick & Dom, Paul O'grady, Bradley Walsh, Shere Hite, Nick Moran, Graham Cole, Bruce Payne & Jon Campling.
Halloween Make-Up Artist Team
Arabella has done many zombie make-ups & became a regular Halloween make-up artist for Deutsche Bank. Clients fly over internationally to have their make-ups done by Arabella & her team at Halloween. Halloween make-ups have included for Phones 4 U, Essex scare events Fright Night & Cursed, Annabel's Private Member's Club & the London Dungeon. Arabella is a certified advanced tarot practitioner & provides tarot readings, all of which can add to your fun this Halloween!
Body Painting
Arabella participated in the World Body Painting Festival in Austria.
Arabella's Workshops
Arabella set up her own special effects & prosthetics make-up workshops & private one to one tutorials in Mersea Island & Colchester, Essex.
Artwork
Arabella has a background in Fine Art & has curated & exhibited her photographic artwork at Kodak Express, the V & A Museum, the London Vampyre Group, London Guildhall University, the Great Expectations Gallery, London, Brooke Clinic, London, and Bar Monsta, London.
Tarot Practitioner
Arabella is also a professional certified advanced tarot practitioner. She studied at the College of Psychic Studies in London and is a certified Advanced Tarot Practitioner, from the Richard Knight Tarot Academy. Her skills include tarot reading, oracle reading, runestone reading, psychometry & spoon & fork bending.
Professional Memberships
Arabella is a Skin Camouflage Technician with a Diploma in Skin Camouflage Application Techniques and was a member of the British Association of skin Camouflage, while it provided public service.